Shuriken



Kanji:

手裏剣

Romanji:

Shuriken

Translation:

Sword Hidden behind the hand (lit)

Type:

Throwing Weapon

Users:

First Appearance:
Shurikens are small throwing weapons used by ninjas in the past. While usually depicted as metal stars with sharp edges, many shurikens (also called, Bo Shurikens 棒手裏剣) where shaped like tiny stakes. They were usually thrown as a distraction (as they need to be thrown with deadly precision to kill someone) or covered in poison. Fujibayashi Saizou and his men employ shurikens in battle.
Roped Shuriken
Edit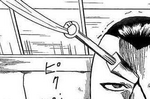 A special shuriken used by Saizou, looks like a kunai (a gardening tool used as a dagger) with a silk rope tied to the pommel. Saizou can throw this shuriken with deadly precision and fish it back thanks to the rope. He uses this weapon to kill
Hakuryuu
.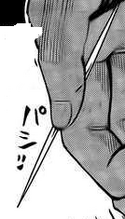 The Waishin (矮針 Short Needle) are tiny shurikens used by Saizou in his
his paralyzing technique
. They look like ordinary, small needles with sharp points. They're painless when they pierce the target, but are nearly impossible to remove and cause terrible pain. when thrown in the joints they make that limb useless.
Ad blocker interference detected!
Wikia is a free-to-use site that makes money from advertising. We have a modified experience for viewers using ad blockers

Wikia is not accessible if you've made further modifications. Remove the custom ad blocker rule(s) and the page will load as expected.